It's officially golf week. The PGA Tour re-starts its 2016-17 campaign in Hawaii with the Tournament of Champions this week, and there are plenty of storylines. Many of them will take months to unfold, but we could be on the precipice of one of the better seasons in recent PGA Tour history (and we've had some great ones).
There is no shortage of young superstars, aging superheroes and intriguing events and mediums of distribution for this sport we are all obsessed with. This will be my fifth year to cover golf, and I can honestly say I've never been more excited.
Here are 10 predictions for 2017.
None of my golf-writing friends will be surprised by this pick. I am often teased for my McIlroy fervor, but facts are facts, people. I can't help that he has finished in the top 10 each of his last three trips to Augusta, he finished the 2015-16 season as the world's hottest golfer, and he is now playing whatever golf clubs he wants to play. Size him up. Update the already-Hall-of-Fame-worthy resume. The Slam will be his come April.
2. Daniel Berger makes us re-think the young American hierarchy
I don't believe Berger is the best young American. He might not even be second best. But I do think Berger is good enough to at least make us consider him for the top two or three or four. Consider the following blind resumes from the past two seasons:
| | | | | | |
| --- | --- | --- | --- | --- | --- |
| | Tournaments | Top 25s | Top 10s | Wins | Earnings |
| Player A | 44 | 22 | 15 | 2 | $8.48M |
| Player B | 57 | 25 | 12 | 1 | $6.3M |
Player A is Rickie Fowler. Player B is Berger. The point being that the former Florida State Seminole is not that far from being a top-tier player with the likes of Fowler and Co. And at a much younger age.
3. PGA Tour announces new playoff sponsor, TV deals
The deal FedEx made with the PGA Tour runs out this season. Hopefully a new deal is coming (either with FedEx or otherwise), and I would imagine that would coincide with a TV announcement. It's no secret that the PGA Tour is trying to get out of its current TV deals with CBS and NBC. Some think that means the Tour would start its own network. Others think it would just burn the old deals and create new ones with the bigger networks.
While I do think the future of golf is in a tour that keeps its distribution closer to its production (i.e. PGA Tour Live), I don't think that day is today. And I'm not sure if it will ever be able to fully break from the big boy networks. It will be interesting to monitor, though, and clearly there is something happening. I can see these two announcements happening close together and becoming a sort of landmark for the first year of new commissioner Jay Monahan's tenure.
4. Jason Day falls out of the top five
McIlroy will catch him by the end of January, and most of Day's big point-earning tournaments will start to wear off as the Masters gets closer. I'll go over my end-of-year top five here in a bit, but I do think Day is going to trend downward. From the unsustainable putting season he posted last year to the glut of injuries he has sustained, getting to No. 1 is difficult. Staying there is a near impossibility.
5. Tiger Woods doesn't win a tournament but posts two top fives
I was bullish on Woods before the Hero World Challenge, and I'm even more so now after watching him lead the field in birdies that week and show off both an "I'm trying to vaporize the planet" swing as well as a more controlled "I can play until I'm 55" swing.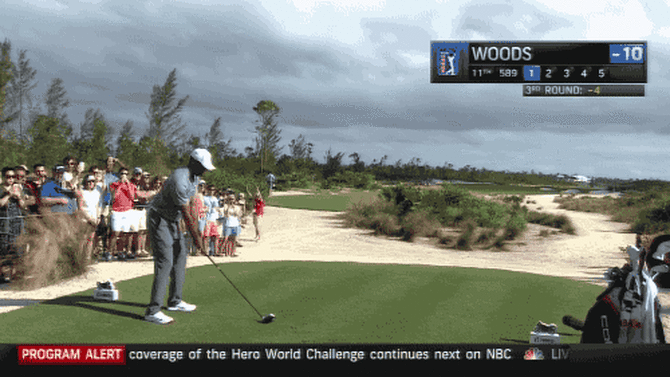 I don't believe he will win because winning on the PGA Tour right now in the events he's going to play in is insanely difficult, but I do think he's going to have moments of brilliance. And maybe that will be enough (for us and for him).
6. Real talk of rolling the ball back begins
The only (important) person beating the drum for a ball that don't go 550 yards on impact is Jack Nicklaus. At some point, others will join him. It might not be in 2017, but it will happen (and I think it should). Golf can be great when 300 yards off the tee is the max (not the norm). In fact, for a lot of courses currently constructed, it's probably better. And for those undergoing new construction, look at Merion for your inspiration. Your track doesn't need to be 9,000 yards long to challenge the big hitters.
7. We finally start to see Asia as a superpower in golf
As of this week, there are 14 Asian golfers in the OWGR top 100. That's more than Africa (five), Australia (four) and South America (three) combined. With Hideki Matsuyama leading the way with multiple PGA Tour wins, we will begin to re-organize the way we view China, Japan, India and other Asian countries moving forward.
About those young Americans I mentioned earlier, Thomas is in the top three. I'm not sure where, either. He ended 2014 ranked No. 122 in the world. He ended 2015 ranked No. 37 in the world. He just ended 2016 ranked No. 22 in the world. This, golf friends, is what is called trending. Thomas has been doing a lot of it of late.
I think at some point, I just started predicting this in hopes that it would happen, and I've just continued predicting it every year in hopes that I could eventually remove it from my list. The man has 22 (!) top 10s at majors without a win (including two top-fives in 2016). Twenty-two! Adidas could make him a Sunday outfit culled solely from the fur of 10,000 black cats, and he would have no worse luck than he's had.
10. U.S. loses the Presidents Cup
Come at me.
(Bonus) Your world top 10 on Dec. 31, 2017
Rory McIlroy
Dustin Johnson
Hideki Matsuyama
Sergio Garcia
Justin Thomas
Jason Day